29/05/18
Exercise smarter with a heart rate monitor on your wrist
Exercise smarter with a heart rate monitor on your wrist. It helps you judge how intensively you exercise and what effect the exercise has on the body. Here we tell you about the benefits of a heart rate monitor, and guide you to a smarter choice.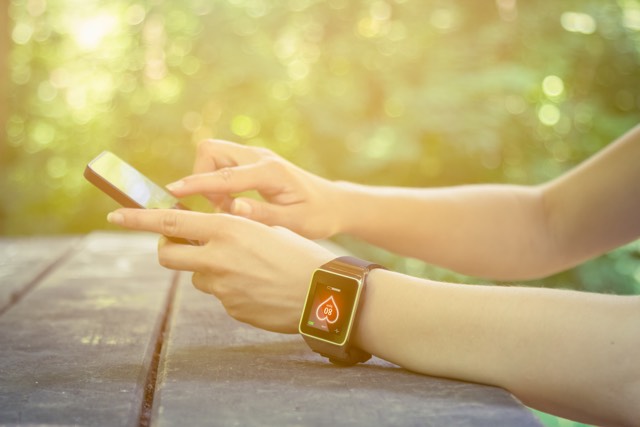 The heart rate monitor measures the number of times your heart beats per minute. A strong, healthy heart pumps out more blood with each stroke, giving more oxygen to the muscles of the body. The fitter you are, the fewer beats per minute are needed to oxygenate the body. It manifests itself as a lower pulse both when resting and exercising.
Perhaps you have noticed that your lungs are not as strained after a period of continuous exercise. It feels easier to run and you don't need to breathe as heavily. With a heart rate monitor, you not only get a feeling of feeling better, but actually data that shows it.
It's important to vary the exertion level when exercising to get the maximum effect. With the heart rate monitor, you'll see how hard your body is affected and you can choose the level that is best for your type of exercise. You will feel better and get better results.
A heart rate monitor on your wrist or an HRM chest strap
The most obvious difference between heart rate monitors and HRM chest straps is that chest straps are faster at detecting sharp changes in pulse rate and therefore give you a more accurate measurement over time.
Chest straps require a bit extra of you as users as they don't work entirely on their own. They must be connected to a telephone or smart watch, the inside surfaces must be soaked before use and they have batteries that have to be replaced regularly. In addition, they can be uncomfortable to wear for those who are not used to them.
Smart watches and activity trackers have become much better at measuring your pulse directly from your wrist. More diodes and smarter measurement methods make the results usually as good as the chest straps. If you do not practice sports with fast pulse shifts, there are few reasons to choose just a chest strap. Instead, buy a heart rate monitor for your wrist and supplement with a chest strap if needed.
Tips on smart watches, heart rate monitors and activity trackers
Before choosing a heart rate monitor for the wrist we'd like to mention two important things.
All modern heart rate monitors use apps in your mobile phone to synchronise data and save measurement results. Make sure the model you choose is supported by your mobile phone. If you plan to swim or run in rainy conditions, it is important to have a completely waterproof model. Today, most heart rate monitors are at least water resistant to cope with lighter rain and splashes.
Here we recommend three popular products for heart rate measurement on the wrist:
• Smart watch for iOS: The Apple Watch is the best smart watch if you use an iPhone. It is tightly connected to your phone and you get many smart features in addition to the exercise-oriented features. All exercise data is synchronised to the phone. See all Apple Watch models here.
• Activity trackers for Android and iOS: The Fitbit Charge 2 is a popular activity tracker that works with both Android and iOS. It has a clear, oblong OLED display, displays notifications from the mobile phone and has detailed sleep reading. The Fitbit Charge 2 does not support HRM chest straps. See the price of the Fitbit Charge 2 here.
• Fitness watches for Android and iOS: The Garmin Forerunner 735XT is a long-term multi-sports watch with built-in GPS and compass. A durable model for the most demanding users and adapted for those who practice triathlon. It measures your heart rate when swimming with the associated HRM chest strap and uses an accelerometer for indoor training. See the Garmin Forerunner 735XT price here.
Would you like to see all watches, smart watches and activity trackers on PriceSpy? we have a category for them all here.
---
Daniel Haaf